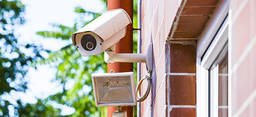 CCTV cameras: a security solution to give you peace of mind
---
Closed-circuit television cameras, otherwise known as CCTV cameras, are a security solution that functions like a TV, but that produces footage which is monitored by a private user rather than for purposes of public distribution. Here are some top tips for homeowners interested in installing CCTV systems on their property:
Choose a CCTV system that comes with a fair warranty and only settle for systems that offer you at least three years warranty. A CCTV product with a low warranty, such as six months, is not only unreliable, it is also potentially dangerous as it could leave your property unsecured when you least expect it.
The type of camera you purchase is also an important aspect to consider. There are three main types of CCTV camera to choose from. These include: analog cameras, High Definition (HD) cameras, and Internet Protocol Cameras (IP).
Analog cameras provide low-resolution images and are the cheapest option. HD cameras allow for better imaging and provide almost as good an image as IP cameras for a lower price. IP cameras are the most technologically advanced type of CCTV camera as they provide the best imaging technology and have network capabilities that allow an alarm to be set off if a security breech, such as a person crossing an alarm beam, occurs. IP cameras can also send immediate images of security breaches to security companies via the internet for purposes of evidence and rapid response from security companies.
When choosing a camera, one must also consider exactly what it is you want your camera to be able to 'see'. This will also influence where and how you install the camera. For example, if you want your CCTV camera to give a wide view of the driveway outside your property's gate, a camera with a greater capacity for giving peripheral views that are stationed in a high position on one's gate is a good idea. In contrast, if you only want your camera to show who is occupying the small space outside your front door, a camera with less peripheral optimization, but with a higher resolution, is a good option.