Burglar Guards: a simple solution for home safety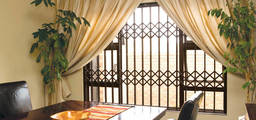 Burglar guards are of the most well known ways to protect your home and can keep people safe and give them peace of mind for many years. They can be installed on the outside or inside of glass windows, shutters, curtains and doors.
One of the most obvious advantages of having burglar guards in your home is that they deter thieves. Thieves often break into homes on ground level, which is why burglar guards are one of the best and most simple mechanisms of defence against intruders.
Another benefit of burglar guards is that they tend to remain a one-time investment for many years. A good quality burglar guard set will outlast and not need as much maintenance as more volatile security implements, like electric fencing or security alarms.
Burglar guards are consistently reliable. They will not stop working when the electricity cuts out, or stop being functional in bad weather. Burglar guards are also a permanent security feature that can protect a homeowner's property even when they are not there. Finally, burglar guards can keep children in the home, which is an important safety feature if one has young children who could wander out of or fall from low set windows.
Different types of burglar guards are available to suit homeowners' specific needs. Permanent guards are a good choice if consistent, long-term use is needed and if there is not too much glass window space that will need to be cleaned behind the guards.
Removable guards are also an option is homeowners only want their bars to be up at night, or if they want them to be removable for specific occasions, so as not to detract from the appearance of the home.
Finally, swing-away bars are attached to hinges that can allow the bars to swing up and away from the glass windows for the purposes of window cleaning or if homeowners are concerned about being able to escape the house in cases of emergency fires. This is an especially beneficial option in cases of thatch-roof or wooden homes, which are naturally more fire-prone.