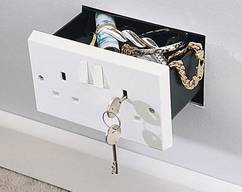 Safes
---
There are countless amounts of security and safety installations that homeowners prioritize in the home. One of these is the safe. A safe is an age old mechanism that keeps valuables in the home safe. 21st century technology, however, has expanded on the idea of the safe and has made it an incredibly viable safety investment for homeowners.
Depending in the style of safe you choose for your home, its functions will differ. Homeowners may require different options for their safes, whilst others may only require a very basic system. Hiring a professional to install your safe is usually the best option when it comes to ensuring that your safe is installed properly and securely. HomeImprovement4u will help you to ensure you have qualified and reliable professionals when it comes to buying and installing safes. This article will help you differentiate between different safes and how they function in the home.
Types of Safes:
Fire Resistant Safe
As their name would imply, these types of safes are designed to be resistant to fires and extreme heat. These safes are almost vital for areas that are at risk of being affected by fires. The higher the quality of the safe you purchase, the higher the temperature that the safe can withstand. Fire resistant safes can usually withstand an external heat of 350 degrees whilst not letting that heat affect its contents. The most efficient space to put a fire-resistant safe is to have it installed under concrete flooring. It is important to remember that whilst these safes are resistant to heat, they are not always designed to resist water damage – especially by fire hoses. To avoid damage once the safe is being doused, place contents in protective seals or plastic bags.
Diversion/Secret Safe
For homeowners that do not feel it is vital for their valuables to be held in a high security safe, a diversion safe is an easy and basic option. A diversion safe is exactly that – a diversion. It is disguised as a common household item such as a book, lamp or ornament. A diversion safe is great for cash, jewelry or items such as passports. It is not, however, secured by anything apart from it blending in to objects in your home. This type of safe would not be advised to homeowners planning to put extremely valuable items away.
Burglar Resistant Safe
Although all safes are ways of ensuring your valuables are safe from theft or damage, not all of them are designed to keep burglars out. A burglary resistant safe is designed with functions and materials that are especially resistant to the tools used by burglars. These functions make it difficult for a burglar to maneuver themselves into the safe and its extremely valuable in areas that are prone to home invasion and theft.
Wall Safe
A wall safe is an option used by homeowners who want to have their safe become an investment to their home. This type of safe cannot be removed from the home and is installed directly into the wall itself. A wall safe is used predominantly for items such as jewelry and personal documents. This safe can be hidden from view very easily due to its location. It can be place behind furniture, décor and even installed behind cupboards. The depth of the safe is entirely up to the homeowner and the professional installing the safe.
Environmental Resistant Safe
An environmental resistant safe is the only way to ensure your valuables are protected from any damaging elements. They are a safer option than a fire resistant safe as they provide protection against water, dust and heat. An environmental resistant safe is a great investment for high-risk areas that are exposed to flooding or situations where the safe may be exposed to water.
Whichever safe you deem best suited to your home, HomeImprovement4u will assist you in finding the best deals and proffesionals. Please visit our homepage for more articles that may interest you.