Heavenly shade for your home: a simple guide to shade sails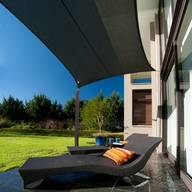 Shade sails are a subtle and effective way to shade areas of your home without the need to install permanent structures.
A shade sail can be described as a device that creates shade in outdoor areas and uses the same technology as a ship's sail. Shade sails are constructed out of membrane that is flexible and thin in design, which is then stretched across anchor points in the desired areas. Shade sails are often installed on a permanent basis but are relatively cheap and easy to set up, so can be taken down and kept for special occasions according to a homeowner's needs.
Shade sails are available in a highly diverse range that gives homeowners options in terms of colour, shape, size, style, amount of sails and more. Shade sails also need not be fixed to installation poles to anchor them as they can also be affixed to buildings, such as the wall alongside a patio or a small balcony.
Styles to consider include triangle shade sails, which offer less shade that the square-shaped variety, but have the advantage of being more flexible when it comes to fitting into unusually shaped spaces and smaller areas. Shade sails can also be layered one over the other to allow homeowners to achieve more comprehensive shade cover, or to allow homeowners to fit their shade sails into highly specific shapes.
When installing your shade sail, or sails, make sure you consider the fact that due to the taunt pulling of the fabric to its anchor points, the sides of the shade sails will be curved along its edge. This means that the measurements of your shade sails may differ depending on whether they are erected or not.
Rainwater is also an important aspect to consider if you decide to erect shade sails. One should avoid setting up their shade sails exactly parallel to the ground as this will prevent rainwater runoff and allow water to collect in the shade sail and distort its shape. Rather angle your shade sail slightly downwards in the best direction for rainwater runoff to fall.