How to choose the perfect roof tiles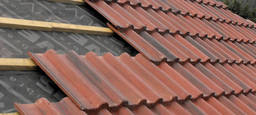 Before deciding on the kind of roof tiles you wish to lay your roof with, it is important to be aware of the wide variety of tiles available, as well as the benefits and disadvantages of different types of tiling.
Take into consideration factors like the size of your roof, which will affect the overall cost of the project, the kind of climate in which you live, which will determine how durable and suited to certain weather patterns your tiling will need to be, and the overall look of your home, which your tiling will need to complement. Here are two examples of roofing options and how their respective advantages and disadvantages should be weighed up:
Clay tile roofs are initially a strong terracotta colour, which gradually fades with time. This style pairs well with Mediterranean or Spanish style homes and complements stone or brick walling.
Clay tiling has the advantage of being highly durable and long-lasting. This style does not rot, is resistant to fire, and less susceptible to insect damage. Clay tiling is also a good choice for areas where extreme weather fluctuations are the norm. It can handle freezing temperatures, heavy rains and intense heat. Another benefit of clay tiling is that it requires minimum maintenance.
The disadvantages of clay tiling are most commonly found in its weight. Clay tiling is very heavy and as a result is impossible to use on homes that lack extra support structures and can pose a danger if used in homes that are too weak to support their weight. Clay tiles are also known for being initially expensive to purchase. If you have a very large surface area of roofing to do and your budget is tight, the cost could be considerable. In addition to this, clay tiles can break easily if stepped on my maintenance crews or chimney sweeps.
Wood shakes are another popular roofing option that gives a home a natural, earthy appearance. Wood shakes come in a variety of customisable colours, shapes and cuts and is one of the best natural air ventilation mechanisms.
The disadvantages of wood shakes include their high maintenance requirements. Without dedicated repair and maintenance schedules, wood shakes are unlikely to last long and as a result, can be a costly and short-term roofing solution
Articles related to your search: