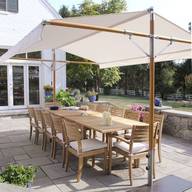 Find Your Perfect Garden Canopy, Come Rain or Shine
---
Having a garden or outdoor area at home is made all the more enjoyable when you find the perfect canopy for protection from the elements and can appreciate your garden-come rain or shine. Without shade protection, a beautiful garden, pool or patio set may lose its appeal on those sweltering summer days when sun protection and a break from the heat is needed. Garden canopies can be a wonderfully aesthetic and practical solution to this problem as they protect any outdoor space and can form a functional entertainment area, place for relaxation or even an office with a twist.
Canopies are fabric-roofed constructions that are secured to your deck and buttressed by a freestanding frame. The frame is permanent and the fabric roofing can be removed during seasonal changes and normally lasts up to fifteen years. Most commonly, the fabric section of the canopy comes in two styles; in either a pyramid or hip roof design, and in multiple colours. Canopy awnings have multiple benefits, one of the most obvious being the provision of shade. The fabric of a good-quality canopy shouldn't droop and will be resistant to tears or any other damage from the elements such as hail, gales or rain. Canopies are also designed to be long-lasting and therefore do not have moving parts that jam or snap, as may be the case with a gazebo. Finally, canopies are ideal for provding a measure of privacy to your outdoors entertainment area or garden.
Choosing which canopy to purchase entails knowing which canopy will best suit your needs. Consider these important aspects to narrow down your choice. Decide on the style and size of your canopy while keeping in mind how large the gatherings in your outdoor area will be. The cover material for your canopy is also an important element to consider. A common choice is polyester because it is water-resistant, long-lasting and relatively cheap. A vinyl coating to your polyester canopy cover has the added benefit of providing UV-resistance. Remember to ensure that you use a flame-retardant cover material if your canopy will be near an open flame at any time.
Finally, when you purchase a canopy, keep in mind these six factors to make sure you get the best possible deal; a canopy that is easy to maintain, strong, waterproof and weatherproof, versatile and flexible in shape and design, has high quality fabric and that is durable.