Swimming Pool Repairs and Maintenance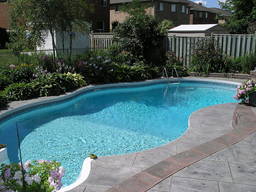 Having a backyard swimming pool can be a wonderful perk to have at home, for the best quality enjoyment of your pool it is important to prevent any build up of a harmful substance!
Pool water can quickly turn cloudy and possibly unsafe if it lacks regular and proper cleaning. You may want to empty out the skimmer basket and vacuum the pool. For the best result this should be done weekly. This will depend on the conditions that surrounds your pool, the pool pump is an important part of keeping the pool clean. The filters on these pool pumops could be a catridge, which should be hosed until no dirt is visible. There is also the Diatomaceous earth (DE), these are filter bags that should be emptied regulary. Be sure to watch the pressure gauge when cleaning, too much pressure could cuase damage to the pump.
If you have any small cracks in your pool and you want to fix them yourself, Pool Putty is easily available and simple to use. Simply clean out any loose bits in the crakc with a screw driver, grab the putty and roll it into a 'snake' that could fit into the crack and push it in. Leaving a crack no matter how small can have a devastating affect on your pool and sometimes even the area and piping in the immidiate area around it. It is very important for the safety of the people who use the pool that regular checks for cracks are done.