Swimming Pool Materials and Supplies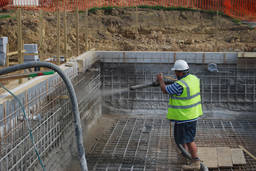 Make sure you have the correct Material and supplies for your pool, this will give you the best and most enjoyable experience in your home swimming pool. Daily and weekly work on the pool is all that is needed for this to be achieved.
When you are choosing your materials for your pool you should firstly consider safety, then durability, and appearance. You will need to choose materials, the coping, the inside of the pool and the waterline and if you would like, the pool deck. Keep in mind that the materials will be in contact with water that contains chlorine and acid. There are 3 common types of materials to use for your pool, concrete, Vinyl and fibreglass. Each have their own pros and cons that will suite different families needs. Concrete pools give buyers the option of making their pool whatever shape size and depth they would like, but they would have to do more pool maintenance compared to others. Fibreglass is limited to 5 meters wide when buiding a pool, but they are beneficial as well because it is non-porous menaing there will be less algae problems. This is the same as Vinyl which is also non-porous so money is saved on chemicals, Vinyl is also beneficial as there is no limit to how you would want your pool designed. Although Vinyl is known to be prone to breaking and looses value after 4 years.
Pool supplies are there to make the lives of the owners safer and easier. Pool nets and fences are available to keep kids or pets out of danger, these come in different kinds whether its for safety or aesthetic. Having a pool net is important throughout the year to pick up any leaves or debris that falls in the pool, this paired with a pool brush is recommended for all pool owners. Pool Vacuums are also very important for pool owners as they clean the areas of the pool that are difficult to get to.