Pool Installation in Cape Town - Everything You Need to Know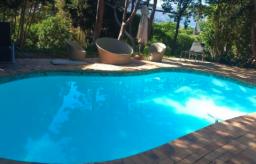 Cape Town, with its stunning landscapes, temperate climate, and coastal charm, is an ideal setting for creating your personal paradise. One way to embrace the outdoor lifestyle and elevate your home's ambiance is by investing in a luxurious swimming pool.
Why It Is Important to Install a Swimming Pool in Cape Town?
Cape Town, a city renowned for its breathtaking natural beauty, diverse culture, and Mediterranean climate, offers an environment that beckons outdoor living. Amidst this backdrop, the installation of a swimming pool isn't just a luxury; but a necessity.
Here are the reasons why your home needs a swimming pool in Cape Town:
1.Escape the Heat
Cape Town experiences warm and sunny summers, with temperatures often soaring. Having a swimming pool provides a refreshing escape from the scorching heat, allowing residents to cool off and relax without leaving the comfort of their homes.
2.Enhance Quality of Life
Swimming is an excellent form of exercise that promotes cardiovascular health, muscle strength, and overall well-being. Having a pool readily available encourages regular physical activity, contributing to a healthier lifestyle.
3. Property Value
It is an undeniable fact that Cape Town has the highest property value in South Africa. A well-maintained swimming pool significantly increases the value of a property. When it comes time to sell, a pool becomes a selling point that attracts potential buyers and can justify a higher asking price.An installation of a proper swimming pool in your backyard will instantly raise the value of your property in Cape Town.A swimming pool in Cape Town isn't just a luxury, it also serves as a practical investment in quality of life, property value, and well-being. It provides an escape from the heat, a space for relaxation and socialization, and a source of joy and recreation in this beautiful coastal city.
The Pool Installation Process
Installing a pool is an exciting journey that transforms your outdoor space into a hub of relaxation, recreation, and entertainment. Understanding the pool installation process is crucial to ensure a smooth and successful project.
Here's a step-by-step guide to the pool installation process:
1. Initial Consultation and Planning
The process begins with an initial consultation with a reputable pool installation company. During this meeting, you'll discuss your vision, needs, and budget for the project. The pool experts will take into account your preferences for pool size, shape, features, and materials. The pool installation team will conduct a thorough site assessment to determine the best location for the pool. Factors such as ground conditions, accessibility, and proximity to utilities are considered.
2.Pool Design and Permits
Once your vision is clear, the pool installation experts will create detailed design plans. These plans include specifications for the pool's dimensions, depth, shape, and any additional features you desire, such as waterfalls, spas, or lighting. Before construction can commence, the pool installation company will handle the permitting process. This involves obtaining the necessary approvals and permits from local authorities, ensuring compliance with safety and zoning regulations.
3. Excavation and Construction
Excavation
With plans and permits in hand, the excavation phase begins. This involves digging the hole for your pool according to the design specifications. Excavation is a critical step that sets the foundation for the entire project.
Plumbing and Electrical Work
Once the hole is dug, the plumbing and electrical systems are installed. This includes setting up the filtration system, circulation pumps, and any additional features like pool heaters or lighting. Proper installation of these systems is essential for pool functionality and safety.
Structural Construction
The next phase involves constructing the pool's structural elements, which may include walls, floors, and steps. These are built to withstand the water pressure and ensure the pool's longevity.
4. Finishing Touches
Tiling and Coping
After the structural components are in place, the pool is finished with tiling and coping. These materials not only enhance the pool's appearance but also provide a durable and slip-resistant surface.
Decking and Surroundings
The area around the pool, known as the pool deck, is prepared and constructed. Depending on your design, this may involve concrete, pavers, or other decking materials. Landscaping and any additional features like fencing or safety covers are also addressed during this phase.
Water Filling and Balancing
Once the pool is complete, it's filled with water and the water chemistry is balanced. This ensures that the water is safe, clean, and ready for swimming.
5. Inspections and Quality Assurance
Municipal Inspections
Municipal inspectors may visit the site to ensure that the pool installation complies with local regulations and safety standards.
Quality Control
The pool installation company conducts its own quality control checks to ensure that all components are functioning correctly, and the pool is ready for use.
6. Handover and Maintenance
Training and Handover
Before handing over the pool to the owner, the pool installation company provides training on swimming pool repairs and maintenance and operation. This includes instructions on water chemistry, filtration, and swimming pool cleaning.
Ongoing Maintenance
Regular maintenance is essential to keep the pool in top condition. This includes cleaning, chemical balancing, and routine equipment inspections. Many swimming pool installation companies offer maintenance services to simplify this process.
Do you need planning permission for a pool in South Africa?
If you're considering installing a swimming pool in South Africa, one of the first questions that may come to mind is whether you need plans or permits for the project. The answer is generally yes, and it's crucial to understand the regulatory requirements before you start your pool installation.
Here's what you need to know:
Regulatory Compliance
In South Africa, pool installations are subject to various regulations and bylaws to ensure safety, structural integrity, and environmental considerations. These regulations are in place to protect both pool owners and the community.
Avoiding Legal Issues
Non-compliance with pool installation regulations can lead to legal issues, fines, or even having to remove the pool altogether. Proper planning and adherence to the rules are essential to avoid such complications.
Categories of Swimming Pools and Approvals in South Africa
In South Africa, there are two main categories of pools:
Exempted Pools
These are smaller and less complex pools that may be exempt from requiring formal plans and approval. These are typically small, shallow, or above-ground pools.
Non-Exempted Pools
These are larger, more intricate, or in-ground pools and generally require detailed plans and approvals.
If your planned swimming pool falls into this category,it's advisable to engage a qualified pool builder or architect to assist with the planning and design process. They are familiar with local regulations and can create plans that comply with all requirements.
At Gentle Pools Pty Ltd we will asist you with all the pre-planning and permission approvals.
Local Municipality Regulations
Each municipality in South Africa may have specific regulations and requirements for pool installations. It's essential to check with your local municipality to determine the exact rules that apply to your area.
In South Africa, the need for plans and permits for a pool installation depends on factors such as the size, type, and location of the pool, as well as local municipal regulations.
To ensure a smooth and legal pool installation process, it's advisable to consult with a qualified pool builder or architect who can assist with planning and obtaining the necessary approvals.
By following the proper procedures, you can enjoy your pool without the worry of legal complications.
How to Build an Affordable Swimming Pool in South Africa?
So, you've always dreamt of having your own pool oasis right in your backyard?
By the way,who doesn't? I do and I know you do too.Luckily In our country South Africa, the sun shines generously,and having a pool can be a great addition to your home. However, you may be worried about the costs associated with building a pool.
Fear not! Today we will guide you through the process of building a budget-friendly pool in South Africa.
Understanding Your Budget
Before you dive into pool construction, it's essential to establish a budget. Knowing your financial limits will help you make informed decisions throughout the project.
Choose the Right Location
Selecting the perfect spot for your pool is crucial. Consider factors such as sunlight exposure, accessibility, and the proximity to your home. A well-thought-out location can save you money on heating and maintenance.
Pool Design and Size
The size and design of your pool will significantly impact your budget. Opt for a simple and compact design to minimize costs. Rectangular or oval-shaped pools are often more budget-friendly than custom shapes.
Materials and Construction
When it comes to materials, concrete and fiberglass are popular choices. Concrete offers durability, while fiberglass is quicker to install. Get quotes from multiple contractors to ensure you're getting the best deal.
DIY vs. Professional Installation
Decide whether you want to take on a DIY pool project or hire professionals. While DIY can save money, it requires significant time and effort. Professionals can provide a quicker and more polished result.
Pool Accessories
Consider which accessories are essential for your pool. Items like pool covers, pumps, and filters are necessary but can vary in cost. Opt for energy-efficient options to save on long-term operational expenses.
Landscaping
Incorporate landscaping around your pool to enhance its aesthetics. Native plants and minimalistic designs can keep costs down while adding beauty to your pool area.
Permits and Regulations
Make sure you're aware of the local permits and regulations for pool construction. Compliance is essential to avoid costly legal issues down the road.
Maintenance and Operation
Budget for ongoing pool maintenance and operation costs. Regular cleaning, chemical treatments, and electricity for pumps should be factored into your budget.
Safety Measures
Safety should be a priority. Invest in pool fencing and alarms to ensure the safety of your family and guests.
Building a budget-friendly pool in South Africa is a feasible project with careful planning and consideration. By setting a realistic budget, choosing the right location, materials, and construction methods, you can enjoy your own pool without breaking the bank.
How to Choose the Best Swimming Pool Construction Company?
If you're planning to build a pool in your backyard or for a commercial establishment, choosing the right swimming pool construction company is crucial. A poorly constructed pool can lead to numerous problems and expenses down the line.
Here are the key steps you need to follow when selecting the best swimming pool construction company to ensure you get a pool that meets your dreams and standards.
1. Understanding Your Needs
Before embarking on the journey of finding the perfect pool builder, you need to have a clear understanding of your requirements.
Consider the size, shape, and style of the pool you desire, as well as any specific features you want, such as waterfalls, lighting, or a spa area.
Having a vision in mind will help you communicate effectively with potential contractors.
2. Researching Potential Companies
Start your search by compiling a list of potential pool construction companies in your area. You can use online directories, recommendations from friends and family, or a simple internet search. Make sure to gather information about their services, location, and contact details.
3. Reviewing Previous Projects
Ask for a portfolio of the company's previous projects. This will give you insight into the quality of their work and the range of designs they can execute. Pay attention to the diversity and scale of their projects to see if they align with your vision.
4. Evaluating Materials and Design
Discuss the materials and design options available with each company. The best pool builders should offer a variety of choices to suit your aesthetic preferences and budget. They should also be knowledgeable about the latest trends and technologies in pool construction.
5. Considering Budget and Pricing
Get detailed estimates from your shortlisted companies, including a breakdown of costs.
Be wary of companies that provide significantly lower quotes, as this could indicate subpar materials or workmanship. Remember that quality comes at a price, and it's better to invest in a durable, long-lasting pool.
6. Assessing Customer Reviews
Read online reviews and testimonials from previous clients. Customer feedback can provide valuable insights into a company's reputation, customer service, and overall satisfaction. Look for patterns in reviews to identify strengths and weaknesses.
7. Communicating Your Vision
Engage in open and clear communication with potential contractors. Share your ideas, preferences, and any concerns you may have. A good pool builder should be willing to listen and provide expert advice to enhance your project.
8. Timeline and Project Management
Discuss the expected timeline for your project. A reliable company should provide a realistic schedule and stick to it. Ask about project management processes and how they handle unexpected delays or issues.
9. Warranty and After-Sales Service
Inquire about the warranty offered on the pool and its components. A reputable company should stand by their work and provide a comprehensive warranty. Additionally, ask about their after-sales service for maintenance and repairs.
10. Final Inspection and Sign-off
Once the pool construction is complete, perform a final inspection with the company. Ensure that everything is as agreed upon and meets your satisfaction before giving your final approval.
Choosing the best swimming pool construction company requires thorough research and careful consideration. By following these steps and guidelines, you can make an informed decision that will lead to a beautiful, well-constructed pool that you can enjoy for years to come.
Conclusion
The decision to install a swimming pool in Cape Town is a significant one, offering numerous benefits to both your lifestyle and property value.
This comprehensive guide has shed light on essential aspects of pool installation in the region, emphasizing the importance of such an investment in enhancing your quality of life, creating a social hub, and boosting your property's market appeal.
For those looking to build an affordable swimming pool, we've outlined key considerations, such as size, design, material selection, and maintenance strategies. Balancing cost-effectiveness with aesthetics is key to a successful project.
Lastly, selecting the right swimming pool construction company is paramount. We've provided tips on researching, assessing pricing, and ensuring transparent communication.
With this knowledge in hand, you are well-prepared to embark on your journey towards owning a pool in Cape Town, making informed decisions every step of the way. Enhance your lifestyle, increase your property's value, and create lasting memories with a well-planned and expertly executed swimming pool installation.
Good Luck!Get Started Now.