Install proper barriers, covers, and alarms on and around your pool and spa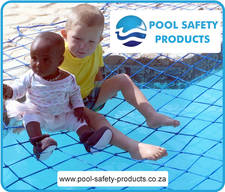 drownings send an average of 5,900 children to the emergency room each year
According to an article in Pool Safely drowning is a tragic cause of unintentional death among children ages 1 to 4, and drownings send an average of 5,900 children younger than 15 years of age to the emergency room each year. Practicing simple water safety steps can help keep your family safer around water.

If you are not sure where to begin, start with these steps:
Never leave a child unattended in or near water
Teach children how to swim
Teach children to stay away from pool or spa drains
Ensure that all pools and spas – both in your backyard and at any public pool you may visit – have compliant drain covers
Install proper barriers, covers, and alarms on and around your pool and spa
Learn how to perform CPR on children and adults
If children's safety is your main concern, then the Easy-Release Safety Net is your best option. According to the new by-laws that have been passed, this is the only pool covering that is deemed a safety feature.

If Pet Safety is your main concern, then the Leaf Net or PVC Cover would be your best option. Both are strong enough to keep your pets out of the water and safe. For lightweight pets, the best option will be the Leaf Net, and for heavier pets, it would be the PVC Cover.