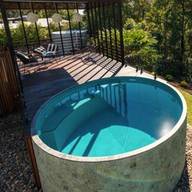 Plunge pools can be very versatile as they are so small. With the help of an expert you can apply the idea of the type of plunge pool you would like. They are easy to suit people of all ages if necessary and can be very safe when designed properly.
Size
With these type of small pools the most usual size is a 4m x 3m, but as was said the size is dependable on you and your needs. Depth is also very important, normally with deep pools a flat bottom is easier so it does not become too steep. It can be a great exercise to jump in and out of a small pool but it is not ideal if you are wanting to relax
Seating
Entry seats are always recommended in a pool but for a deep small pool seats on the side for relaxation are sometimes built in, these can also be used for kids safety if the pool s too deep.
Spa Effect
The size also makes it easier to introduce some spa effects, installing jets and a heater into your plunge pool can give you a winter option and let you use your pool all year round and make the best of it.
Introduce features you want into your new plunge pool, it is a normal pool and can be tiled and desgined in the way you would want any pool. As there is less space being used for your pool the choice of wherer you want to place it grows, this lets you even chooce to put your plunge pool in a place that could be aesthetically pleasing as well.
For more informaton about plunge pools or you are wanting one installed, contact a proffesional in your area from our Page.