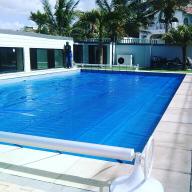 It is that time of year again when you wont be using your pool and it is going to turn into a green swamp just like winter promises. So it is your job to try make sure that you do what you can to make sure that when summer comes again you have nice blue pool to swim in.
Cover
Keep your pool covered the whole entire winter, the filter will struggle to handle all of the leave from the tress around your pool. Once in a while taking it off to clean up all the leaves that may have slipped through or any collection of dirt that may be in the pool can also be cleaned.
Enzymes Product
Also during this part of the year it is a good idea to use Enzyme Chemicals, this will help break down non-living organic contamination that may effeect your pool and posibly the healthy of your family or your animals. These contaminations can come from bird droppings, or other bather conatminants.
Cover Continued
You also have to make sure that you keep your cover clean and tight, if you do not clean your cover once in a while he collection of dust that has been protected from your pool will damage your cover. Keeping your cover tight will make sure that the dust that has collected on top of the cover does not seep into water as it touches it.
Articles related to your search: