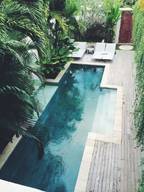 Swimming Pools.
---
Swimming Pools are the best way to escape from the South African heat without having to compromise being out in the open air. A swimming pool is where parents get to relax and where children get to play with reckless abandon.
Having a pool in your home is extremely beneficial in terms of social events as well as being a convenient place to do resistance based exercise. Friends and family are able to visit and sit around the pool in the sun whilst not having to worry about their children sitting in front of the television all day.
In terms of exercise, a pool is a great way to keep your body strong without maximum effort. Swimming has been known to strength muscles as well as increase bone density. Swimming is also said to improve the breathing of young children with asthma, as their lungs are strengthened by holding their breath under the water.
There are very important decisions that one needs to make before installing a swimming pool in their home. The way that a pool is designed relies heavily on how you intend to use it.
Ask yourself, who will be using the pool? If the answer is that your children will be using it the most, various precautions will need to be taken. The pool will have to have a shallow end, steps and maybe handrails to ensure a child can get out if needed. The pool should ideally also then be positioned in a visible area.
Next, you should be asking yourself why this pool is being built. A pool designed for aesthetic and pleasurable purpose will have a very different design to one that is created for training or to do laps in. You may also want to consider if the pool will be used for things such as hydrotherapy, in which case you will need to install extra facilities.
Thirdly, ask yourself if you are willing to maintain your pool without hesitation. An unkempt pool is an obvious eyesore that can be avoided. Ensure that your pool remains cleaner for loner by installing water pumps, filters and sanitizing chemicals.
A pool is a large commitment to make, but will essentially add a new dynamic and value to your home. For more articles, please feel free to roam around our homepage.
Articles related to your search: