MAKE YOUR HOME A DREAM REALITY WITH IMPUMELELO YETHU PLUMBING AND ELECTRICAL (PTY) LTD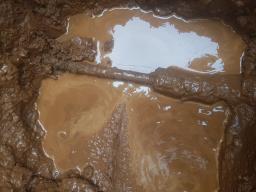 Have no regrets, water is expensive and we are here to help you save. "We drain your sink not your wallet."
PLUMBING MAINTENANCE
For every plumbing need you have like burst pipes, blocked drains, leakages, burst geysers and installation of pipes, geysers, toilets and sink repairs Impumelelo Yethu Plumbing and Electrical (PTY) Ltd provides you with quality workmanship, professionalism, expertise, trustworthy, affordable and advance tools to provide you with the best plumbing jobs.
BURST GEYSER
When you suspect that your geyser has burst, the first thing you need to do is to switch off the water supply. Water leaking from the burst geyser can damage your ceiling and your wall, if it is located outside there will be a shortage of hot water from your taps and it will leak through the pipes. To prevent burst geyser make sure you switch it off when the municipality closes the supply or whenever you run out of water.
BURST PIPES
The most time pipes burst is in winter. When the water within a closed piping freezes, the water expands, therefore it increases the pressure within the pipes and cause the sidewall of a pipe to rupture. The sun also causes the pipes to burst, the sun can speed up the deterioration of the outside pipes. Avoid flooding in your house and the damage of your expensive wooden floor and furniture contacts us as soon as you suspect you have burst pipe.
BLOCK DRAIN
Drain blockage is usually caused by tree roots, toilet paper buildup, dirt, food waste and small objects. Avoid installing pipes near trees because when the roots grow its affects the drain pipes. Blocked drain is similar to burst pipes. Impumelelo Yethu Plumbing and Electrical will help you using the state-of the art electronic rotary drain cleaning equipment.
Have no regrets, water is expensive and we are here to help you save. "We drain your sink not your wallet."