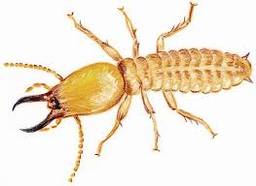 http://www.homeimprovement4u.co.za/directory/category/pest-control/termite-control-treatment/
Termite Control
---
Termite control is available to all property owners and should be carried out every year or two. Holes are drilled around the homes perimeter and barrier chemicals placed in them and sealed with a small stopper.
The pest controller will examine the entire property, examining areas that may be vulnerable. These areas could include wooden fences, sheds, and wood storage areas, under the home, cupboards, walls and roof spaces.
Each home is unique in design and materials, so it is important that you choose the corrrect form of termite control in order to get the best results.
Forms of Termite Control
Drywood Termite Treatments:
This form of treatment is convenient because of it's immediate action. It is an odorless treatment that is used on infested wood structures. Drywood Termite Treatments can be injected into wood or be applied directly to the affected area. It is also a good preventitive against further infestations.
Liquid Application with Bait and Monitering System:
This system is mostly used on properties that have a variety of different nests around the home. An exterminator or professional will install monitering systems around the home that will detect any termite activity. These monitering systems will then be replaced with bait that will be ingested by the termites and carried into their nests. The treatment comes in a liquid form that is inserted or injected into entry points that may be infested.
Liquid Application with Repellent OR Non-Repellent:
Both of these treatments are also injected into infested areas. They are both created to either pull termites towards an area or drive them away. The repellent is created to make an area unappealing for termites, whilst a non-repelent draws termites to an area that has been doused with treatment and will end your infestation problem.
Fumigation/ Entire Structure Treatment:
This form of treatment is the most drastic but also the most effective when it comes to serious, large scale infestations. This treatment includes covering the whole structure with a tent. The home is then pumped with gases that leak into corners of the home that may have been unreachable otherwise. This form of treatment requires specific expert overseeing.
Please see our homepage for more articles that may interest you.