Preparing your wall for Wallpaper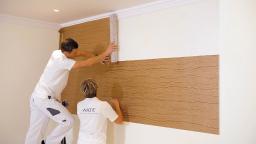 One of the most important parts of using wallpaper is preparing your wall for it, hanging wallpaper on a wall can be as easy as painting if it is done properly. Maintaining it is a different story and is very dependent on the room.
One of the first things to do will be to make sure that the wallpaper will adhere to the surface, This will involve adding some type of solvent, there are some commercial solvents that you can purchase, if you use the correct one then this can roughen up the soft surface to provide the best possible adhesion. Sometimes washing the walls with heavy duty solution will work as well, these are very harsh chemicals though so please use gloves and be careful when suing these chemicals.
If you are working in an older house then you must remember that some of the paint on the walls may have calcimine in it, this may cause it to not form a strong bond and will begin to peel. This is hard to prevent if it is not done properly, and for it to be done properly you must prepare well. A simple way to remove the calcimine is to give the wall a thorough clean with just warm water and normal soap. If the paint begins to come off continue to wash the wall all over.
Articles related to your search: