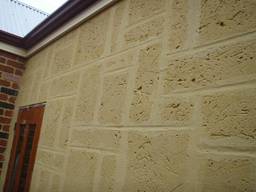 Having limestone rendering can be a very safe option for you and your family! Plaster is coating a surface with cement render or plaster finish on an internal or external wall. Plaster is for decoration and protection of every building.
WHen you are setting things up so that you can apply the limestone plaster, besure to cover up any other exposed part of the house eg:the floor, stairs, doors. This will make sure there sre no stain after you have finished. Be sure to wet the area that you are wanting to apply the plaster to, this can be done with a coth. It is possible to get some products that you can add to the water to help the plaster mix. To mix the limestone follow the instructions on the bag, remember it is very important to wear a mask and gloves when applying your limestone to the sand, limestone is highly toxic.
There are two ways to apply your limestone to the wall, if you have plastered before then the throwing and spreading techmique can be used. For people who are new to this, with youre spatula scoop up the plaster on the bottom side and slowly apply to the wall and even spread it out. Once your surface is dry enough you can begin to apply the finishing touches. the surface must be dry bust still slightly humid. Take a polystyrene flatner and lightly rub on the wall so that you can see the limestone smoothing into the wall. For corners of the wall it is recommended to use a sponge.