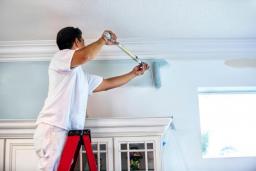 All peeling paint needs to be removed with wire brushes, scrapers or a high pressure washer. Apply 1 coat of Plaster Primer / Damp Cure and allow drying for 8 hours. Apply Final Coat with two coats of Textured
Painting Steel
1. Remove all rust where possible with steel brush
2. Clean door surface with a damp cloth and wait to dry completely
3. Where rust has been removed, paint anti-rust coating with a normal brush
4. Paint with sponge roller and brush.
Preparing Walls:
1. All peeling paint needs to be removed with wire brushes, scrapers or a high pressure washer. Apply 1 coat of Plaster Primer / Damp Cure and allow drying for 8 hours. Apply Final Coat with two coats of Textured
2. Various Hairline Cracks are evident. All Cracks must be opened in V-Formation, apply 1 coat of damp cure and allow to dry for 6-8 hours, fill with Crack filler and spot prime with Damp Cure.
3. Damaged plaster work has to be re-plastered with a mixture of Plaster Binder and Plaster Mix following with a coat of Damp Cure