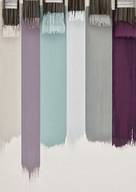 Painting Your Home.
---
Most people of a somewhat warped view of what it actually means to paint a room or your house on your own. The idea of painting a room brings to mind a laughing couple having a spontaneous paint fight, when in reality it is a far more serious task that needs professional advice and ample preparation! However, it is something that can be a wonderful accomplishment if done carefully and correctly.
Let's get started. First things first:
Understand your Tools:
Brushes:
If you want your paint job to be the best it can be, don't opt for cheap brushes. Using good quality brushes will make all the difference in terms of application and finish. Your walls are the structure of your house, and how they look is pivotal to the quality of your home. A good brush will be made of different length bristles that taper towards the end. When shopping for brushes, expect to be buying a variety. Certain brushes are better for different areas in the home.
Sandpaper:
The quality of your sandpaper will determine that quality of the surface you apply your paint to. Try and aim to purchase black sandpaper that is coated with silicone carbide. It is far more durable than your average sandpaper.
Coverage and How to get it Right:
Many people assume that professional painters just slap some paint on a brush and get to work, but that just isn't true. There is a certain amount of technique that goes into creating the perfect finish. The first step is to create a flowing sequence. If you are painting a variety of surfaces, always start with the woodwork. By starting on the woodwork you can slide excess paint over onto the next wall and create a seamless and smooth finish. Another tip is to not only focus on smearing paint to cover the surfaces, but on creating an even density across the whole surface. It is important to ensure that you apply an even amount of paint so that you aren't left with areas that are think and protruding.
Apart from getting the technical aspects right, there is room for fun and creativity when painting your home. Choose colours that suit your style and personality, and that you are certain you want to be surrounded by. Read our article on colour consultants to find out how to get the colour of your home just right!For more articles on DIY and home improvement, please visit our homepage.