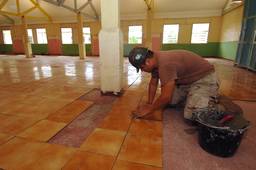 Ceramic Restoration: keep ceramics a worthwhile investment
---
Ceramics include any object or structure made from clay that has been fired in a kiln into a permanent form. Ceramics are incredibly versatile and can not be limited to just one category or function. They come in the form of porcelain artworks, dinner ware, pottery vases, China teacups and teapots, decorative wall tiling and floor tiling, just to name a few. The main categories of ceramics include stoneware, earthenware and soft paste and hard paste porcelain. Ceramics are notoriously prone to chipping and cracking, no matter what their type or function is. Knowing what to do when your ceramics are damaged, and how to avoid such damage occurring, is vital information to have if you want ceramics in the home to be a worthwhile investment.
Ceramic tiling is a common household material often found in kitchens or bathrooms. Kitchens are often the busiest room in the home where heavy objects are dropped, large objects; like fridges, are moved and general wear and tear occurs. Ceramic tiles can often crack in these environments if, for example, a chip in the tile is caused when a heavy object, like a pot, is dropped. This chip can develop into a crack that can eventually extend across an entire tile. If you notice any small cracks or chips in your ceramic tiling, calling a professional to prevent further damage is the best solution. Ceramic tiles can also spontaneously crack if they have been under sustained pressure for a long period of time. For example, the tiling under a large fridge, freezer or stove can eventually crack if the object is awkwardly placed on the tile or is above the tile's weight capacity. Make sure you get a good quality tile that complies with breaking strength standards. This standard normally stipulates that an unsupported tile can sustain at least 113 kgs.
The concrete layer beneath a floor of ceramic tiles is called the concrete substrate and can also be the cause of cracking in ceramic tiling. If the cracking occurs at the concrete substrate level, the fault will be transmitted to the ceramic tiles above to form a reflective crack that is often long and continuous across multiple tiles. To prevent this from happening, a crack isolation membrane must be used when the tiling is being installed. A professional ceramic restorer or tiler will often use a product like Ditra to to this.