Washing lines: new technology and better results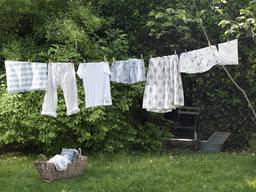 The most common type of washing line, and the most old-fashioned, is the rotary washing line. Rotary washing lines allow clothing to dry from natural exposure to the air, and although they are usually efficient, they are not the only option when it comes to drying your washing.
Many other outdoor drying structures are worth consideration if you are looking for something that will suit your needs more than a rotary washing line. For example, if you have limited garden space for drying large loads of washing, a retractable, horizontal washing line may be best for you. Retractable washing lines allow you to extend a line across the space you want to dry your clothes in, and retract the line back once your clothes are off the line.
Retractable lines are also available in different lengths and materials and the option for more than one line in a single retractable device. Look for a retractable line device that has a tightening knob, which can be twisted to adjust the tautness of the washing line. This comes in handy if you have a heavier load of washing to dry and need the line to be tightened.
Freestanding, portable washing lines are another good choice for homeowners with limited space for drying washing. Portable, foldable washing lines can be set up in the garden, and folded down to be stored away once the drying is complete. Although these drying devices are convenient, they are limited in that they can not bear loads that are too heavy.
Wall-mounted retractable lines can be attached to any wall and are operated by a handle that opens and closes the product. Wall-mounted retractable lines to not spin around and are fixed to the wall, which makes then an unobtrusive and space-saving option for homeowners.