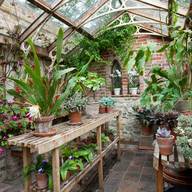 Nurseries
---
Nurseries are a beautiful way to turn a hobby for gardening into a profitable business. Turning your back garden into a nursery takes time, care and attention but is largely beneficial. There are multiple things to consider if you are thinking about creating a nursery, and this article will hopefully guide you through some of the steps!
A nursery is, in essence, a home for baby plants to be grown and nurtured until they are fully-grown. People who own nurseries should have a good grasp on how to care for a variety of plants and how to ensure that they are as healthy and as strong as possible. The modern homeowner typically already makes his or her garden a top priority. Because of this push towards beautiful and well-groomed gardens, it is easier than ever to incorporate a nursery into your home! Nurseries can be created for aesthetic purposes, but are mostly used as a form of income.
The first thing to consider if you are starting a nursery is how you will landscape, design and plan the area you wish to use. Consider where you will group plants and which space they will flourish in. Some plants will need to be harvested in the sunlight whilst others will bloom better in a shady area. It is also vital to understand how plants will be affected by the climate in your living area, and if this changes throughout the seasons. It is no use investing in plants that will struggle to grow during winter if you live in a predominantly cold climate. Many areas and countries have various laws on plants. Ensure that you are familiar with these regulations to ensure you are selling plants that are legal. If your climate is temperamental, consider investing in a greenhouse. A greenhouse will help you keep your plants in a consistent temperature and environment. A greenhouse is a relatively costly investment but will aid you in growing your plants well.
The next step is the fun part of creating a nursery; choosing which plants to incorporate. This is completely up to you in terms of what you love to grow and where your strengths lie. A nursery can be successful in growing as little as two plants as long as those plants are grown well. Nurseries can grow almost anything, from ground cover plants to ornamental grass. Of course, a large variable is the area you live in and what will be able to grow. People often forget that nurseries can also be used to grow and sell herbs and spices, which will also be beneficial for your home!
For professional advice, suppliers or more articles, please visit our homepage!