Landscape design for beginners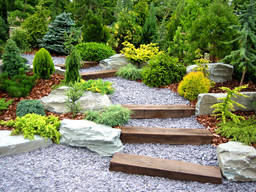 Designing your garden can be an exciting and challenging task, but also a daunting one. If you're unsure of how to begin, but want to make your garden an expression of your own creativity, consider following these tips to start off your garden design adventure.
1.Take into account the sun, wind and soil conditions of your garden plot. Knowing the condition of your soil and the kind of plants it can most successfully support, as well as what kind of fertiliser your soil will need to make up for any lacking nutrients, is vital before you start planting.
2. The general wind and sun patterns are also an important consideration because certain plants will not be able to thrive in environments where the sun or wind are too intense. Based on these conditions, you may need to choose hardier plants that can handle more extreme conditions.
3. Working around a focal point is one of the easiest ways to start landscaping as a beginner. Choose a focal point in your garden, such as a statue, water fountain or eye-catching tree, and use it as a centralising point in your design. Surround this point with flowerbeds, footpaths or topiaries to create a pleasing sense of balance in your landscape design.
4. Choose a variety of shapes, sizes and colours in your landscape design. Too many tall plants and trees will give your garden a cluttered and overwhelming atmosphere, whereas a garden filled with only low-laying flowerbeds and shrubs appears unbalanced.
5. Make sure you also include a variety of colours that balances greenery with brightness. Too little colour in your garden may be underwhelming, so ensure that you include pops of colour in your garden.
6. Take into consideration who will be using your garden. If you have children and pets who need time outside to play, filling your garden with delicate flowerbeds and precise design implements may not be worthwhile. Spacious grass areas are needed if you have children or pets, or if you wish to entertain guests in your garden with outdoor meals or picnics.
Articles related to your search: