How to get your garden spring ready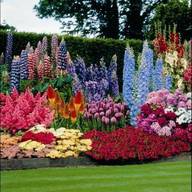 With spring upon us, it's time to get your garden ready to make the most of the beautiful season. Here are some easy tips to get your plants healthy, get your garden growing and get the best colour from your vegetation.
Ensure you remove the thatch build-up of your lawn by raking with a metal rake to remove the dead growth that sinks below the grass level. For areas of your lawn that appear sparse, discoloured or even bare, returf these areas after watering and tossing in some organic fertiliser.
Finally, give your lawn a replenishing update with an even sprinkling of slow-release lawn food over all the grassy areas of your garden. This will give your grass a nutritional boost to make it extra green and ready to grow with the spring rains.
Consider giving your garden some practical variety by sectioning off a corner to grow your own vegetables, or by interspersing your flowerbeds with colourful red tomatoes, bright yellow lemons, or other fruits and vegetables. Herb boxes made of wood or tightly woven hessian sacking can also be a rustic design implement to add to windowsills, verandas or on the sides of walkways. The best vegetables and herbs for summer include tomatoes, chilli, lettuce, basil, rocket, capsicum, snow peas, cucumber and parsley.
Take advantage of spring's favourable weather for colourful, flowering plants. You can add instant pops of colour to your garden by planting pots of daffodils, tulips or pansies. It is also wise to plant flowers that flourish in late spring and summer to take your garden's colourful beauty from one season to the next. Plants like phlox, impatiens or petunias are perfect for the end of spring going into summer.
Give your potted plants a makeover to freshen them and aid their growth. Repot plants that have been in the same container for more than a few years and are beginning to outgrow their current pot size. Replant these pots with fresh potting mix and place them in larger containers. Prune potted plants to keep them neat and healthy and to limit leaf or petal fall on verandas, windowsills, or sidewalks. Remember to also give your flowerbeds special attention before spring comes your way by pruning away all overgrown areas, cutting back dying flowers, and chopping off areas of plants that have been compromised by weeds or pests.
Articles related to your search: