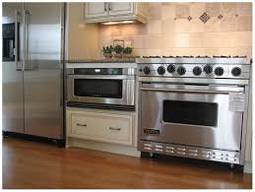 Finding an Oven Installer

Well done, you have selected your new oven, it needs to be installed in your kitchen. If it is a straight swap out for an old oven, installation will be considerably less complex. If you are installing a new kitchen or renovating your existing kitchen then you are likely to have to consider a number of factors. These include the presence of a power point or a gas point (for gas ovens).

It is important to realise that if any electrical or gas work is undertaken then you must use a qualified tradesperson. If you don't use a qualified tradesperson where required you could be voiding the warranty of your appliance as well as your insurance cover. Not to mention that working with both Gas and Electricity can be extremely dangerous. Another consideration is to ensure that the contractor is familiar with the brand and model you are installing.

Types of Ovens

If you are shopping for a new oven you will encounter two main types, those powered by gas or those powered by electricity. The built in variety is incorporated into the kitchen cabinetry, often at eye level for convenience.

There are pros and cons to gas and electric, with gas considered more cost effective. Electric ovens have however come to dominate this sector, primarily for their convenience and perceived safety. However with our countries unique (and sometimes despairing) load shedding inconveniences you should consider these options wisely.

How Much Does Oven Installation Cost?

The cost of installing an oven is typically a flat fee. Expect in the region of RXXXX for the labour cost of this job. This will however vary depending on the type of installation. Swopping out or upgrading an oven will typically be covered by this, but anything outside this scope – such as providing new power points or gas lines - will involve more time and additional costs. Electricians and gasfitters are the relevant two trades who will carry out this type of installation.