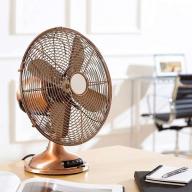 Wanting to air up the place in the summer is always a good idea, the heat can really ruin your ,motivation during the day. Selecting the right fan for a room size and choosing one that suit the mood of a room. You don't want to make the mistake of having a fan blowing your papers all around the room.
Here are a few fan ideas for your home
Ceiling Fans
The good old ceiling fan is the most common fan in a household, these have modernized over time and they now sometimes come with remote controls. But even if not these are reliable for use in your lounge or bedroom, they spread a nice consistent amount of air around the room. Just make sure that you keep it clean on top otherwie it can spread dust.
Pedestrial Fans
These fans sit on a stand which means they can be moved very easily. They are most commonly used in an office space, they need to be cleaned quite regulalrly so that they are in their best condition.
Wall Fans
These type of fans are very good for spreading air around a room from an angle that will have the greatest effect, with the rotation of the fan on it does its best job, These also need to cleaned regulalrly, they can be ordered so that they can have different settings of fan strength