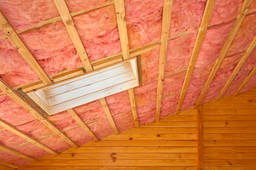 Insulation
---
Insulation is considered an extremely effective and beneficial way to ensure that your home is properly heated through out the year. Insulation is the way in which you trap heat in your home without the use of energy or electricity, but rather by making use of various materials installed in your walls or roof. Insulation materials come in an extremely wide variety, and each material holds its own benefits and functions. Homeowners need to be able to understand the different materials available to them and which one would be most beneficial in their home.
Installation of insulation materials is vital when it comes to getting the most beneficial results. There are some materials that can be installed by homeowners but a professional is more than likely to install your insulation in the best way possible. If you are looking for a professional to install insulation in your home, HomeImprovement4u will be able to get you in contact with the best professionals in your area. If you do choose to take the DIY route for insulation installation, ensure that you follow guidelines with complete accuracy. Also make sure that you are familiar with your local fire and building laws and codes.
Including insulation in the home is an investment that has many benefits to offer. Insulation is extremely effective when it comes to saving energy, which has great repercussions on both the environment and your bank balance. Insulation traps heat in the walls of your home, creating a comfortable and warm temperature in your home. When walls are not insulated and your wall cavities are left open, heat escapes at a rapid rate which requires you to compensate for this loss of warmth with electrical appliances. By not having to compensate with heaters and thermostats, it is easy to see how your electricity bill will eventually plummet. Apart from financial benefits, insulation makes a remarkable impact on the environment. Using insulation as opposed to electrical means, leads to a significant drop in carbon dioxide being emitted.
Types of Insulation
Blankets and Batts: blanket and batt insulation is the most commonly used type of insulation. If you are after a DIY project, then this is the easiest option to choose. If you do undergo a DIY route, ensure that the blanket or batt material is wound properly around all your piping and wiring. Blanket or Batt material can come in the form of fiberglass, rock wool and cotton.
Loose-fill Cellulose is another great option for insulation. It works best in homes that have very sturdy walls that can take heavier weights. It is also one of the best insulation materials for colder seasons as its functionality improves as the temperature drops.
Loose-fill Fiberglass is great for homes that require a lighter material for walls that aren't especially sturdy. It is a good material for attics or roofs. If you are a relatively experiences DIY master, loose-fill fiberglass can be installed by somebody who isn't a professional. One would just need to get hold of an insulation blower to ensure the job is done correctly.
Insulation installation is a task that needs to be done perfectly in order for maximum effectiveness. If you are in need of professionals to do this for you, or are simply interested in more articles, please visit our homepage.