Split air conditioner system: an energy efficient and affordable alternative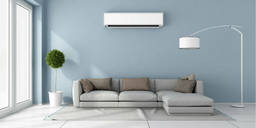 During hot summer seasons, air conditioners are a must to keep your home cool and fresh. For effective control of your home's internal temperatures, a split air conditioner is a viable consideration that has the benefit of being unobtrusive and subtle. They are also known as mini-split, ductless split or duct-free air conditioners and can cool the entire house without extensive installation expenses or running costs.
A split air conditioner system is different from other air conditioner types, such as window air conditioners (ACs). Window ACs are composed of one unit with the whole air conditioning unit on a single base inside the home. In contrast, a split air conditioner system is composed of two parts, an outdoor and an indoor unit. The outdoor system is positioned outside the room where the internal system is situated.
This system does not require in-depth installation processes due to a lack of ductwork. Instead, the outdoor unit is connected to the indoor unit via electrical wires.
Electrical connections, rather than ductwork, are a better alternative both in terms of being environmentally friendly and being less expensive. This is because ductwork is less energy-efficient than electrical connections. In split air conditioner systems, there is less opportunity for heat and energy to escape the system because it is better contained between two localized components. In contrast, window ACs with ductwork waste large amounts of energy and heat due to heat exchange processes.
The benefits of a split air conditioner system are numerous. One benefit is the quietness of a split air conditioner system because the noisiest parts of the system are located in the outdoor unit of the home. Another benefit of split air conditioner systems is that they can cool multiple rooms. This is possible by attaching multiple indoor units for the rooms one wishes to cool to a single outdoor unit.
Articles related to your search: