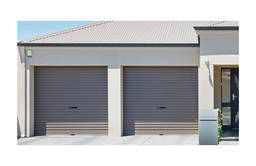 Old Garage doors can cause more problems and safety hazards then most people think, so maybe it time to install a new door with a torsion spring and do-it-yourself tensioning. Installing a new, double garage door yourself will save you several hundred dollars and should take eight to 12 hours if you're fairly handy.
First of all if you are dealing with your old garage door it is important to hire a professional when you are realeasing the tension from the old torsion spring system. There are two types of springs you could install in your new garage, this is a torsion spring or a extension spring. The best recomendation is the torsion spring this is because they're quieter, safer and easier to fine-tune. Setting the tension on torsion springs has always been very dangerous, but torsion and extension spring systems with easy, do-it-yourself tensioning are available. If your are unable to find this version it is highly recommended to hire a professional as it is a very dangerous job.
To install the door you must start with the first part on the bottom, the rubber gasket at the bottom of the door should be able to level the door without any digging needed. Install the stiffening strut on top of the top section of steel doors with the section lying flat and follow any other specific instructions that may come with your garage door of choice. Make sure that you lay a carpet down when working on your garage door so it does not get any scratches on it. Some tips for when you are installing the rest of your door, align the upper roller tracks by carefully lifting the door halfway, Using your drill, add tension to the torsion spring. Apply lubricant for garage doors to the spring.