How to choose the perfect couch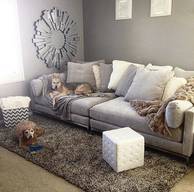 Couches of sofas are the central piece of any lounge or recreation room. With a comfortable set of couches, your lounge is guaranteed to be an often-used meeting place for the family after a busy day of work or school. Take note of these simple tips when buying couches or a lounge-suite for your home:
Comfortable cushions are one of the most important considerations when purchasing a couch. Comfort comes first as a couch should be a place to relax on and enjoy lazier moments in life. One of the most popular and affordable fillings for a comfy cushion is polyurethane foam. Down is known for being the softest and most luxurious filling, but will need to be fluffed and plumped to keep its shape. Another option is to combine fillings to complement one type's weakness with another's strength. For example, a core of polyurethane foam surrounded by down results in a perfectly soft cushion that retains its form.
Choose a couch that will guarantee long-term use and comfort rather than chasing trendy styles. A reliable and classic couch is the English rolled-arm couch, which is deep-seated and has comfortable arms to rest against. You can then update the style of your couch by choosing trendy fabrics and patterns in the cushions and upholstery, without compromising on comfort.
Good quality fabric is another vital component to choosing the perfect couch. With an unending variety of options to choose from in terms of colour and pattern, it can be tempting to go for a beautiful design at the expense of quality and feel. However, the composition of the fabric should be foremost in your mind, as poor quality fabric can cause allergies, fade in colour, tear easily, and feel uncomfortable. Choose fabrics like linen and silk for rooms that are more formal, and opt for natural cotton and wool for more casual rooms.