Dining room furniture: choosing the perfect dinner table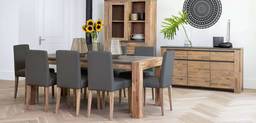 Choosing the perfect dinner table to complement your dining room and surrounding dining room furniture, involves multiple considerations relating to the design and practicality of the table.
Making sure your dinner table is perfect fit for the dining room is a vital step because of how central the dinner table is to the purpose of the room. The table needs to be chosen with consideration for how many diners will use the room at one time. The table should comfortably accommodate your family, guests, or both, with enough table-to-wall space for people to move in and out the room and carry food.
Table-to-wall clearance, the amount of table space, and the maximum amount of chairs that the table can accommodate without compromising on comfort, are all factors to consider. One easy way to do this calculation is to lay down a sheet that mimics the dimensions of a potential dining room table on your dining room floor to gauge its appropriateness.
The shape of your dinner table is not limited to squares or rectangles. Circular dinner tables can be a wonderful option that encourages increased interaction between guests and family members. This shape of dinner table is also a space-saving match for smaller dining rooms.
Long, narrow rooms are more suited to tables that allow for 'traffic flow' on either side of the table. Rectangular tables are, therefore, a good choice in these scenarios. Square tables are suited to rooms that are also square and can add a sense of harmony by mimicking the shape of the larger, surrounding area.
Finally, if you are struggling to save space in a dining room, consider making space-saving seating decisions, rather than opting for an uncomfortably small table. Benches that can slide under the table after use, or modern, backless stools that can also slide under the table rim, can be attractive options that limit overcrowding.