A beginner's guide to contemporary interior design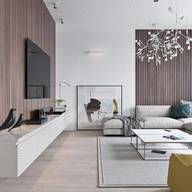 Contemporary interior design has a long history of eras and trends, but remains an approach to design firmly rooted in personalised creative expression. Follow these top tips to acquaint yourself with the most important elements of contemporary design and inspire your homemaking journey:
Contemporary interior design aims to be warm and welcoming without the minimalistic coldness that characterises many modern designs. Simplicity and subtlety are important and an atmosphere of sophistication is often the result of well-executed contemporary design.
Some of the most common colours used in contemporary design are white, black, and other neutral tones. These subtle colours are often broken with accents of bright colour or patterns to lift the general appearance of a room. In contemporary design, neutral backgrounds are used as a backdrop for brighter accents to limit too much colour, or clashing colours.
A specific use of line is also common to contemporary design. Line refers to the general shapes and flow of one architectural or design implement into another. In contemporary design, line is softer and less stark and sharp than is the case in modern design. However, contemporary design still aims for sleek, clean, and uncluttered lines. To achieve this sleekness, bare walls, space between furniture, high ceilings, geometric shapes, and bare windows are often used.
Flooring in contemporary design aims to reinforce the sleekness and cleanness of line seen in contemporary furniture. Bare and level flooring with a smooth finish in tile, wood, or vinyl are common choices. Carpeting in contemporary design is in neutral and warm colours and carpets or mats are subtly designed with geometric patterns or neutral colours.
Other design implements common to contemporary design include the use of alternative building implements in one's walling, staircases or other objects, like kitchen islands and fireplaces. For example, stone, polished metal, opaque glass, or exposed bricks are popular choices.