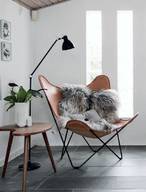 Chairs
---
Finding and choosing the right chairs for your home can be a challenging and sometimes overwhelming task. Although we may not realise it, chairs are a pivotal part of interior design that bring together personal tastes and styles.
Taste, style, comfort and budget can all play a role in choosing your chairs. Styles and trends are constantly changing, so shopping around until you find something that suits your taste is a good idea.
Lounge Chairs
Most people take note of the sofa or couch when they walk into a room. Comfort is a really important factor as these chairs are used for people to sit and relax, watch TV or just to socialize with family and friends.
If the chairs are bought as part of a lounge suite, they will already have the same upholstery and cushioning. If the cushioning is bought separately, they can differ according to your personal taste preferences.
The depth of the chairs needs to be deep enough for people to sit comfortably but also take into consideration the width or length of the sitting area as this can also impact on a person's comfort without feeling as though you're sitting too far forward or too far back.
Take into account the arm-rest height, you don't want arm rests that are too low or too high. They must be comfortable. Arms made from metal or timber may be hard and make relaxing a little difficult after some time. However there are sometimes practical implications such as being able to balance a glass or a cup of tea on the arm rest, and create a modern and edgy aesthetic within your home.
http://www.homeimprovement4u.co.za/directory/category/furniture-equipment/furniture/loungeroom-furniture/
Dining Chairs

The number and style of dining chairs depends on the size of your dining table, as you will need to choose chairs to suit the seating arrangements, height and table design. The chairs should be sturdy enough to last without breaking, but light enough that younger or older family members can pull them out to sit down.
Dining chairs should be comfortable, they should be at the correct height for you table, not too low or high, if the chairs have a hard seat cushions can be bought to soften these chairs.
The chair backs are also important, low backed chairs offer a feeling of space within a small room, but can be uncomfortable when dinning. High backed chairs can also feel restrictive to some people. Choose a chair back that suits your personal preferences. The chair style should also match the existing décor in the dining room
Chairs in a home often represent alot about the enviroment and atmosphere. Whether that atmosphere is relaxed and comfortable or modern and chic, homeimprovement4u will assist you in choosing the right chairs for your home.
To find the right chairs that will ensure many moments of great company or relaxition, visit our homepage.
Articles related to your search: