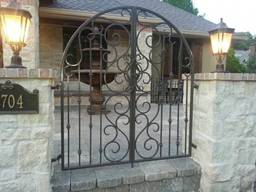 Wrought iron gates are the height of Old World beauty. Their classic appearance and long lasting durability have made them the choice of many people throughout the ages. You can now also have one in your home with the help of professionals and a little DIY.
When installing Wrought Iron gates it is important to check certain things, you must remember to check the measure and plan area. and clearing the fence path of obstructions, also you must unpack material and take inventory. You must first start off your plan by measuring out area with a string, while you are doing this you can also start to mix your cement in a wheel barrow, you will need approximately 1.5 of the 20kg bags per post hole depending on the size that you dig and the size of posts ordered. digs holes approxiamately 15.5 cms in diameter and 60 cm deep, this is all depending on the size of the pole.
Place the pole into the gorund then put in up to 40 cm of cement in the whole and the rest with gravel and dirt making sure it is as tight as possible. When you are then attaching the fence to the poles, hold the fencing to the pole taking into account how far you want the fence off the ground. While the fence panel is being held in place get your cordless drill with the appropriate bit and self tapping screws provided. Then starting with the top brackets screw them to the posts; next do the bottom brackets. It is advised to wait 7 days before hanging your gates. If this is not possible and you have to hang the gates sooner, at least wait 7 days before the gate is used heavily.