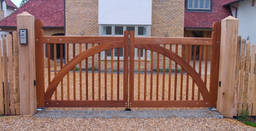 Filling the gap, creatively: wooden gates
---
Whether you're looking for a delicate garden doorway or a large driveway gate, wooden gates are an appealing option. Their old-world charm and rustic appearance make wooden gates a firm favourite amongst homeowners of country cottages or suburban properties- they truly are a versatile option.
Wooden gates are perfect for a variety of areas around the home. They can be used as driveway gates with solid vertical bars, or with reinforced steel plates, to make sure the wood remains sturdy and protective.
A garden gate is also ideally wooden and designed with short vertical slats in a picket-fence-like style to emanate a picturesque, country look. A trellis-style garden gate is also appealing because it allows people to glimpse the garden when the fence is both open or closed.
Ranch-style wooden gates are another creative consideration for homeowners who want to compliment their western-styled home or rustic design preferences. This style of gate is usually constructed from elongated, horizontal panels joined to stakes. To add a more complex element to this style of gate, different materials such as brick or stone can be used to build the supporting structures on either side of the wooden panels.
Finally, an indoor wooden gate can be a useful tool inside the home if you need a way to prevent small children or dogs from entering certain areas, such as the stairs or a formal lounge. An indoor gate alleviates the hassle of having to continually set up childproof or pet proof barriers and is a more harmonious option as indoor gates can be designed to compliment their environment. This can be done by synchronizing the colour of the wood to the colour scheme of the room. For example, one could use bleached, white wood for a room with a cool palette, or a dark, rich wood for a room with a warm colour palette. The type of wood used can also be matched to any wooden trimming nearby.
Remember to consider incorporating ornamental designs in your gate. These designs can range from intricate carvings, arched shapes, cut-out designs in the wood or inlaid iron designs in the wood.