Expandable Security Gates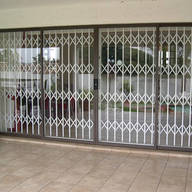 Expandable security gates are easy to use and safe for any household. For quick and effective slam lock system, you can feel safe in your house without the inconvenience of a large metal gate.
Benefits of Expandable doors
Normal, solid steel gates take up a lot of opening space. They are visible in any area of the house, if you have an expandable security gate then this is the perfect mix between safety and aesthetic. They have a slide mechanism that is barely visible when the gate is open, the slam lock system is built with a dead lock that can be openened simply with a one key system
Different types of Expandable Doors.
They different types of expandable doors vary in respects to the level of security that they offer.
Alu-glide= This is a medium level security gate but is in a more reasonable price range.
Xpandor= This is more of a High Security system that also comes with newer features like a double slamlock and tamperproof handles, the benefit to you is a secure home, business or industrial building.
Multiguard= This is one of the biggest and best systems to set up in your house and is available in UV resistant colours, makes this security barrier perfect for outside applications in both residential and commercial installations. 70% solid steel construction, that can protect and let your family feel safe in their home
For more information about expandable doors or if you want one installed in your home contact a proffesional in your area.