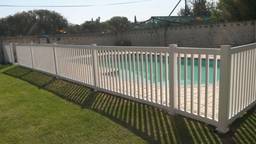 The pool is a beautiful place to gather as a family and enjoy the nice hot of summer, but it is important not to forget to implement the best safety precautions around your pool. There are many things to take into account when choosing your pool fence.
When choosing your fence you must remember that kids are known to climb, find a fence that does not have foot or handholds for them to climb with, also remember that there must be almost no clearance between the ground and your fence, this could allow pets and kids to sneak underneath as welll. The Material you use is also important, this choice will be based on the sturdiness and the look of the fence, some will come with benefits that others do not, make sure you know your materials as they can benefits your needs very well.
The first material that is recommended is wood, it is one of the oldest and most well known materials to use for fencing, you have a larer choice of design and wood is known for its reliability if it is well maintained. One of the best parts of using wood as your fencining is that it is also cheap. PVC is also one of the recommended materials to use for your fence, it can be made into many different designs and is very strong. It is capable of handing the elements well but does not do as well as our next material aluminium. Ornamental fencing has become very common lately for pool fencing, it is aluminium fencing and is usually powder coated, These fences are popular because they don't need a lot of work and they look a lot better than most fences.