Palisades and Security Fencing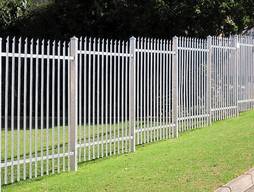 Having security in your home is always very important when you move into your first property. Palisade fencing although quite expensive is a very safe and reliable options. Although it is recommended to get it installed it can be done with some hard work alone.
When installing palisades fencing, there are a few things you will need to do before you start, you must measure the distance in which you plan on laying the fence and exactly where you intend on putting the gates of the fence. This lets you measure out where you will be putting down the Main support poles all around the area. These support pole holes should be 300x300 mm wide and about 600mm deep. Once these whole are dug the poles can be put it and cealed with concrete, earth or a earth stone mix. The horizontal joining poles are attached on both sides by a bracket (explaned in fence manual how to attach) the sharp vertical steel piece is slid in between the two horizontal poles before they are clipped onto the brackets. The gaps in between the horizontal pieces are already measure for you, this will create secure security around your house.
Palisade fencing is good for safety and can add some aesthetic to your house if they are taken care of properly, if you choose to stick to the normal fence on it own then repainting will need to be done after a while. The normal method for this would be to remove all the paint with any normal paint remover then clean the fence with water and some soap, when dry apply first and second layer of paint and it is always recommended to apply water resistant finisher. This should maintain the standard of your fence to the best quality.