Safety in Glass Pool Fencing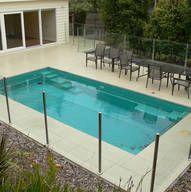 If you are looking to install your own glass fence for your pool, you will need to have all the necessary tools and safety tips that are necessary for this to be a successful job. The help of a professional is always recommended but it can be done alone. Here are a few safety tips
Tools Needed
Non-Slip Gloves
Safety Glasses
Glass suction filters
Rubber Matt
A glass suction filter is always needed to carry around the glass safely, the non slip gloves are also recommended to be used during this time as any breakage of glass could cause massive injury. Because of the possibility that the glass may break safety goggles are also used in case. To protect the glass from getting any scratches lay rubber mats on the floor or fold newspaper up and place them in the corners off of the ground a little.
Make sure that you do not build the fence near any trees or objects, this can sometimes provoke kids to trying to jump the fence using that object and can cause injury to your chld. If you have younger children, mak sure that you maintain the lock, if done so then the self lock mechanism that most of them come with wont be worn out. A regular pool fence routine should be to check the screws on the floor of the fence, if they do come loose heavy winds could cuse them to fall and break. You must also regularly use the alen key that your fence should come with, this must be used to tighten the supports that hold the glass
To have yours installed or for more information conatct a proffesional on our page.