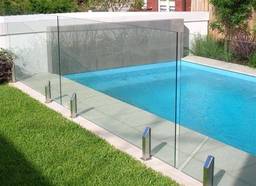 Glass is one of the best types of pool fences for your home, it can be very pricey but in the long run it can bring a very nice aesthetic to your garden and is a very safe option if you have kids. One of the mos important things when having these fences is keeping them clean.
The most basic but best thing to regularly do to your glass fence is to hose it down, this get rid of any light dust that builds on the glass, spray both sides of the glass thoroughly for best results. If things have built up over time and spraying of the hose pipe just doesn't do enough, you will the have to grab some newspaper and begin wiping those harder than usual spots. Once in a while it is a good idea to give your fence a bog wash with soap, luckly because its glass there are many types of soap you can use, mix this with some warm water and wipe down your glass fence and spray with gold water afterwards.
Your glass pool fence, of course, will be installed with marine grade stainless steel fixings. These will obviously need to be attended to as well, but once again it is not going to much tougher than some warm water and soap to give them a thorough wash. and to hjave the best finish possible it is not a bad idea to wipe down both the glass and the fitting with a microbecloth. Stay vigilant with you fence, bird droppings can actually be corrosive, so they need to be removed soon after, this fence although needs maintenace for aesthetic is a very safe and easy idea for your home.