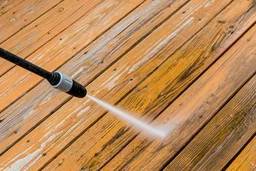 When you have finally chosen your fence of choice, its time to learn how to clean it! Your fence of choice could be a metal or wooden one but it is always important to know the best method to cleaning your fence. Here are a few tips to cleaning a metal or wooden fence.
When you are wanting to clean your fence it is important to learn about what is best for your fence and what can you do so that it can be preserved. A wooden fence can be some maintenance to clean. You will need to thoroughly clean yoour fence with recommended cleaning products such as, Fence Cleaner QSE and Wood Ox 2000 Fence cleaner. When you are cleaning the wood it will remove dirt, algae, mold, and lichens that are the reason that it is discolored.It is also highly recommended for people to use high pressure cleaners when doing the job, this will make it easier and more effective to clean your fence. After cleaning it leave the fence to dry for 15-20 minutes. After the Fence has been left to dry it is important to apply an oil that that penetrate the wood to protect it from UV Rays and other weather conditions so there is no warping.
Cleaning a metal fence is one of the easiest jobs, this can be done simply with a hose or a cloth and a bucket. If you do encounter any rough stains on the fence that do not come off easily then you will need to scrub it. This scrubbing is best done with a bucket of warm soap water and a brush. Dip the bristles of the brush into the water and then scrub the area, the soap you use can be an anti-rust cleaning product if you choose, this will benefit your fence in the long term. This type of cleaning should be done once a year.