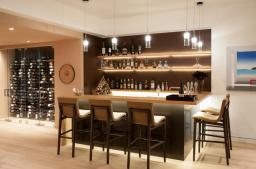 Having a bar at home can be great for having friends over or just a nice Sunday afternoon at home. Here are a few tips on how to keep up the look and quality of your home bar.
Laminate Bar Surfaces
These type of bar surfaces are hard and will maintain their appearance and durability ,uch longer then most other decorative surfaces and never really need that much work done on them. When you do give it a clean, try give it a gentle rinse afterwards, this is because residue can build up after a clean and this overtime could cause lasting damage.
For the odd clean that you may do during the week, do not try and use a special detergent that, a simple clean with an all purpose cleaner and damp sponge or cloth and then rinse after.If you cannot find an all purpose cleaner do not try and use a harsh alternative, this could damage your counter top. Another tip to keep your laminate top looking at its best shape is to try and avoid exposing it to any heat, this could be a hot plate or mug that has just come out of the microwave.
To have an expert come and install a bar at your home contact one in your area from our page