Electrical Installation in a new building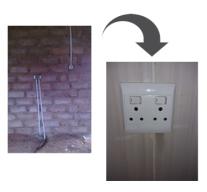 How to install electrical conduits etc correctly in a new build
One of the important aspects of a budget is to help us avoid unnecessary overspendings that may result in heavy debts. Imagine having to redo part your building project due to steps which were not followed in the process. As a results, the rework will force you to work over your spending plan which is a bitter pill to swallow.
As your home wiring contractor, Lemael (Pty) Ltd urge you to follow steps of your new building project in a sequential order to avoid setbacks.
We want you to get value for your hard-earned money, that is some of our reasons to exist.
Below is an outline of electrical installation steps for you to follow when building a new house:
Embedding of conduit pipes on walls and underfloor.
In this phase, the contractor will be chasing walls and digging trenches on the floor to lay conduit pipes and electrical boxes on walls.
Ensure all walls are built to their highest level, that is normally the ceiling height in a scotch roof design. If is a flat roof design, the roof must be installed first.
Location of all lighting and plugs points and distribution boards must be known at this phase. This include your kitchen design.
Building contractor can now plaster walls and pour concrete on the floor once all conduit pipes and boxes are embedded.
Installation of conduit pipes in roof space.

At this point, roof trusses must be installed first.
Position of all lighting points must be known.

Wiring.

Commence after installation of conduit pipes, boxes, distribution board and other electrical equipment.
If possible, do not apply final coat of paint at this stage to avoid stripping the surface mount equipment such as plugs and switches.

Fitment of light switches, ceiling lights, plugs and other electrical equipment which are mounted on ceiling and walls.

Ceiling is installed and final coat of paint is applied.

Inspection, testing and certification.

Installation is verified as per the requirements of the Wiring Code (SANS 10142) and OSH Act.
Electrical Certificate of Compliance is issued once the installation is verified and complies with regulations.
In conclusion, it is advisable to request copy of Wireman's Licence and Electrical Contractor Certificate from the person who will be performing electrical installation work at your premises. If you are not convinced with their copies, you must contact your nearest Department of Labour to verify their registration.
We wish you best in your building project and hope you find this article useful.
Should you have any questions, please do not hesitate to contact us.