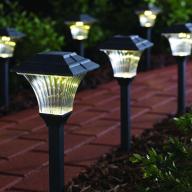 Having a people over for a gathering always means there will be some outside mingling and chatting, whether its on your Veranda or in the garden. This means that you will need to have some efficient outdoor lighting that will last and add lots of aesthetic to your garden.
Flood Lights
These are the best type of lights to use in your garden for security, they provide a wide spray of light that could cover most gardens, These need to be placed in a high place for optimal efficeincy, these also come with a motion sensor if you choose, these help even more when dealing with security
Landscape lights
These are lanterns and sconces are used to highlight greenery in your garden or a possible floral area, as well as outdoor industrial spaces, emphasizing architectural features like columns. These are very common to be used in pathways leading up to the house.
Spot Lights
Spotlights are also a wonderful idea to spark up your home, do not overdo spotlights, they are very powerful and singularly focussed light, they are used to light up important and significant areas in your home.
To get a hold of your own outdoor lighting contact a proffesional from our page.