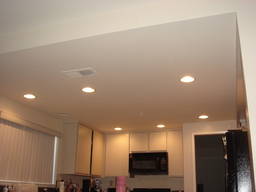 Lighting installation is can usually be much more difficult than people think. There are many things to take into account when you are installing a new light into your house, if all things are taken into account before and during the job, you should have a new light in no time.
Think about where you are going to install your light in your chosen room, the placement must be set so that as much of the light is utulized as possible. This will vary from room to room, make sure that wherever your light is placed that it is safe from any type of water damage that could occur, if this is not done properly then there may be a need for an upgrade or replacement in the near future. In these instances it is also good to decide what kind of light you want, is it for decoration or is it for practical use? This will help you decide if you want a more focussed light or a bright broad light
Are changing a light or installing a whole new one? If installing new wiring is needed to be done calling a proffesional is needed usually, that is why it is important to look at all the criteria first so that you cna build a budget. If you are simply replacing a light then the wiring should already be in place for you. If you are thinking of istalling quite a powerful light into your house make sure you check if the wiring in your house can handle it. Often old houses wiring becomes weak and when a large charge come through it could cause danger hazards.
For more information on Lighting or if you need to contact an expert in your area, have a look at our how page.