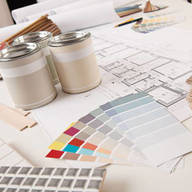 When it comes to choosing a new a colour for your house it is important to know which ones will benefit yoour mood and the room. This can be helped with knowing how to use the differnt colours, this is what colour consultants do, but colour it's quite simple, but it's not easy. In short, a color consultant specializes in the complex effects of color and creates color solutions for a client's goals.
When you have asked a colour consultant to come to your house there are a few things that they would like you to know before the come. Before they come it is imprtant to chat to the perosn you have hired, this would give them a better idea of the colours you would enjoy based on your personality. Recommendations from like-minded friends can be helpful. When the colour consultant comes it is a very interactive process usualy clients just need a little bit of a direction involving design and they could choose all of their own colours for their house. Try give the colour consultant some of your favourite pieces in the house, this could be a rug or a piece of fabric on some furniture, this can help the consultant choose.
Try not give the colour consultant too much of a time limit, they are there to help you choose the colour not to choose for you, this could take time as it could be very interactive. Although this is the case it is important to check th rates of a consultant as well before hiring them. They usually charge by the hour and the amount can vary. There are some consultants that could charge a flat fee per house. As the home owner you will be looking at many different colours, do not be shy to ask for another look if you need to, they want to hear your point of view.