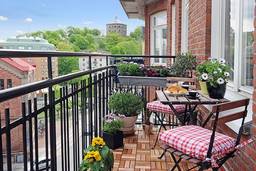 Romantic balconies for your home
---
If you're looking to add a touch of romance to your home, a balcony is a good option to consider. Balconies stir up connotations of Italian villas and Shakespearian love stories, making them one of the most dreamy architectural additions to your home. Practically, balconies are just as useful as they are beautiful. One reason for this is that they add living space to any room above the first floor of your home. Here are a couple more reasons why installing a balcony in your home is a good idea, as well as some tips for the best way to do so.
When thinking of installing a balcony, consider how its placement will affect both the inside and the outside of your home. Although a balcony may look perfect in a specific spot from the outside, its doorway from the inside may disrupt the living space of the room. Consider installing a balcony with two access points so that it can be entered from two rooms. For example, one could install two balcony entrances from a master bedroom and en-suite bathroom.
Choosing the materials for your balcony is a very important part of the process. Some of the most common materials used for building balconies include vinyl, cement, and wood. Vinyl is a synthetic resin or plastic that can be used for the flooring and the railing of your balcony. It is one of the most affordable options for constructing a balcony and is available in a range of colours or wood designs. Vinyl is also low maintenance as it does not need to be replaced due to rain and sun damageand, it only needs to be washed down to appear band-new again. Cement is one of the most durable materials for a balcony and can be stained or painted to match the surrounding environment. Wood is a traditional balcony material that needs to be repeatedly sealed to protect it against rain and sunshine.
Balconies can range in size from small 'Juliet-style' balconies to larger structures that can incorporate a furniture set and entertainment area. Remember to keep the overhang of your balcony to a minimum in order to allow sunlight to reach the area below. Four feet outwards is a decent size if you want to fit an outdoor furniture set on the balcony without it limiting the exposure to sunlight of rooms below. Be creative with your balcony space and consider using it as a mini garden or space for bird feeders to attract wildlife.