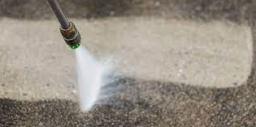 Pressure washing also called power cleaning is a high pressure water spray that removes loose paint, mold, grime, dust, mud, and dirt from surfaces
What is pressure cleaning
Pressure washing also called power cleaning is a high pressure water spray that removes loose paint, mold, grime, dust, mud, and dirt from surfaces and objects such as building, vehicles and concrete surfaces. A pressure washing surface cleaner is a tool consisting of two four high pressure jets on a rotating bar that swivels when water is flowing. This action creates a uniformed cleaning pattern that can clean flat surfaces at a rapid rate.
Areas where you can use it
Gutters
Roofs
Decks
Sidewalks
Patios
Driveways
Siding
Parking Lots
Cladding
Depending upon the surface to be cleaned, Higher or lower pressure should be used, as well as the appropriate nozzle.