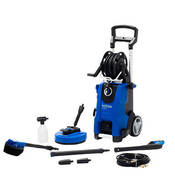 High pressure cleaners can make your life at home just a little bit easier, it may be a wall that needs a clean or a stain on your veranda from the braai the night before, high pressure cleaners can make an easy job of most cleaning jobs.
Here are a few options to choose from:
Cold Water Pressure Washer
These are the most commonly used pressure washers, they are the most reasonably priced, they also do the job that needs to be done, they usually come with very basic settings that will handle most jobs that are suited to do.. They are quite small and can fit in most cupboards in the house and are very iften used in offices as well for cleaning.
Hot Water Pressure Washer
These are used by large companies usually but can be very useful in companies and home run businesses, this is because it is much more efficient and faster to have acess to hot water when washing a mark off a wall. They work very well as they are able to reach temperatures of 155 degress celsius, they are efficient but they are also more expensive then the cold ones.
Gas Powered Pressure Washer
These are the type of washers that you need when you have a big job that is need to do, these are signinficanlty more powerful and have a much greater effect, These gas pressure washers are also much more moble than the electronic ones, all you will need is a possible gas refill, no cord to worry about when doing big jobs far away from houses and electricity. The only flaw with the gas powered pressure washer is the fumes and the noise, the fumes also mean you will not be able to use the gas one indoors.
FOr more information or to purchase a high pressure washer contact a preffesional in your area