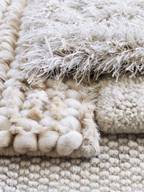 Carpets
---
Carpets have always been, and always will be, in demand when it comes to flooring that keeps your home comfortable and warm, especially in the winter season.
Carpets should never be considered old fashioned or out of date, there are innumerable ways to choose a carpet that suits the style of your home and are able to bring a fresh and modern look. Different styles of carpet depend on the fibres that are used and in the way hat these fibres are maintained.
When choosing a carpet for your home, always remember to consider important aspects that may affect your choice. Ask yourself if this area is often walked on, if it is likely to get dirty or stained and for how long you intend to keep the carpet in your home. Fortunately, the variety of carpet available caters to all these individual needs!
Polyester Carpets.
If you are looking for carpets which are made of fibres that can hold rich and vivacious colours, then polyester would be a great choice for you. The fibres are also often (but not always) made to be non-allergenic and eco-friendly by using recycled materials. This carpet, however, is a bad choice for areas that have people constantly treading upon it as it is not extremely durable.
Nylon Carpets
Nylon Carpets are often considered a popular choice amongst customers who are after durability and comfort. This carpet is also made of fibres that are easily cleaned should disaster strike!
Wool Carpets.
Wool Carpets are exteremely popular in cold areas that require the house to be warm, soft and comfortable. However, the softness of the wool leans towards being easily stained and difficult to clean. This type of carpet is a great choice for somebody who rarely spills and is confident that there will be little to no mess.
Polypropylene Carpets
Polypropylene is another fibre that would be suited well to a family with young and messy children. A polypropylene carpet holds almost the same soft texture of a nylon carpet, but is considered even more durable in terms of stains, shedding and mildew.
HomeImprovement4u wants to ensure that you make the right choices for your home, from top to bottom. Choose the carpet that will give your family and home ultimate comfort and ease. If this article interests you, please visit our homepage for more.
Articles related to your search: